England on behalf of Israel and American trying to irritate the hell out of Iran with more propaganda tactics, pay a few activists to raid your Embassy followed by 'OUTRAGE' !
Iran protesters attack UK embassy in Tehran - Thursday 29 November
• UK foreign office "outraged"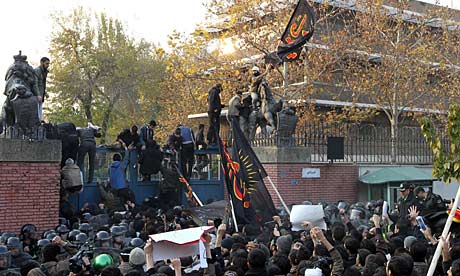 Here is a summary of what happened on a day when UK-Iranian relations plummeted further:
• Dozens of Iranian protesters forced their way into the British embassy in Tehran, tearing down the Union flag and throwing documents from the windows. They also pulled down a picture of the Queen and burnt an embassy vehicle, as well as US, Israeli and UK flags. The protesters said they wanted to shut down the embassy. Protesters also targeted Gholhak Gardens, a British diplomatic compound in north Tehran that has been a source of contention between Iranian and UK officials over its ownership. Both of the protests have now ended.
• The UK foreign secretary, William Hague, said he held the Iranian government responsible for failing to protect the embassy, despite Tehran's expressions of regret for today's events. The foreign office advised British nationals in Iran to stay indoors and keep a low profile after the attacks. The Iranian foreign ministry said it regretted the events and was committed to the safety of diplomats on its soil but Hague said it "remains a very serious failure by the Iranian government".
• The semi-official Fars news agency said six UK embassy staff were rescued by police after being held hostage by the protesters who it described as "self-motivated university students". The UK foreign office would not comment directly but Hague said that all staff had been accounted for.
• Clashes between police and protesters were reported at the UK embassy. One protester was in a critical condition, according to Fars. It said several protesters and police officers were injured. Police used teargas to try to disperse protesters. Some were reportedly arrested at Gholhak Gardens.

The UK's foreign secretary, William Hague (pictured left), has issued a strong statement on Iran. He said all embassy staff are accounted for but his anger has clearly not been mollified by Iran's expression of regret for today's events:
"This afternoon our two Embassy compounds in Tehran were stormed by several hundred people, putting the safety of our diplomats and their families at risk and causing extensive damage to our property. The United Kingdom takes this irresponsible action extremely seriously. It amounts to a grave breach of the Vienna Convention which requires the protection of diplomats and diplomatic premises under all circumstances.




We hold the Iranian government responsible for its failure to take adequate measures to protect our embassy, as it is required to do. I spoke to the Iranian foreign minister this afternoon, to protest in the strongest terms about these events and to demand immediate steps to ensure the safety of our staff and of both Embassy compounds.




While he said that he was sorry for what had happened and that action would be taken in response, this remains a very serious failure by the Iranian government. The Iranian charge d'affaires in London has been summoned to the Foreign Office this afternoon and the prime minister has chaired a meeting of Cobra.




The safety of our staff is our utmost priority. On our latest information it now appears that all our staff and their dependants are accounted for. We are urgently establishing the whereabouts of our locally engaged security staff to ensure their wellbeing. All other locally engaged staff had been instructed not to attend the embassy today because of the likelihood of demonstrations.




We warn British nationals against all but essential travel to Iran, and we advise the small number that are in Iran to stay indoors and to await further advice. We have made clear to the Iranian government that they must take immediate steps to ensure the safety of UK personnel; to ensure that property taken from the Embassy compounds is returned; and to secure the compounds with immediate effect. Clearly there will be other, further, and serious consequences. I will make a Statement updating Parliament on this tomorrow."...read more
http://www.guardian.co.uk/world/blog/2011/nov/29/iran-protesters-attack-uk-embassy-tehran-live