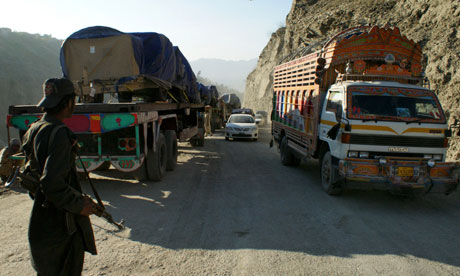 An attack by
Nato
aircraft on Pakistani troops that allegedly killed as many as 28 soldiers and looks set to further poison relations between the US and
Pakistan
was an act of self-defence, a senior western official has claimed.
According to the Kabul-based official, a joint US-Afghan force operating in the mountainous Afghan frontier province of Kunar was the first to come under attack in the early hours of Saturday morning, forcing them to return fire.
The high death toll from an incident between two supposed allies suggests Nato helicopters and jets strafed Pakistani positions with heavy weapons.
The deadliest friendly fire incident since the start of the decade-long war also prompted Pakistan to ban Nato supply trucks from crossing into
Afghanistan
and to issue an order demanding the US quit the remote Shamsi airbase, from which the US has operated some unmanned drone aircraft.
A spokesman for Nato's International Security Assistance Force (ISAF) said it was "highly likely" that aircraft which had been called into the area to provide "close air support" to troops on the ground was responsible for causing casualties among the Pakistani soldiers...read more
http://gu.com/p/33k9m/tw