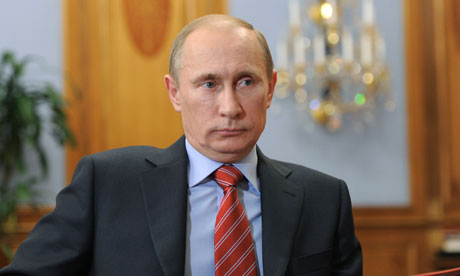 Putin says he saw the ballot. "It was very funny. I was happy," he says. He says he's used to being the butt of jokes, especially in the west.
Astonishingly, he then goes on to suggest that the article was part of a plot hatched in Britain by disgruntled exiles who live there. (He doesn't mention Boris Berezovsky, Putin's London-based enemy, by name but seems to be hinting at him.)
"I think this is people living in London. We now the kind of people living in London these days," he says. He points out, correctly: "They can't come back to Russia as long as I'm here."
Is Putin going to attend the 2012 London Olympics, I wonder?
Meanwhile,
#Путин
, which is Putin in Russian, is trending worldwide.
The call centre doing Putin's Q and A has received 1.5 million calls, apparently.
One woman is asking him a question, using the usual standard polite Russian form: "Hello, Vladimir Vladimirovich..."
Putin is now talking about utilities. The Kremlin, of course, vets all questions carefully. Certain topics are taboo including Putin's alleged personal fortune.
http://www.guardian.co.uk/world/blog/2011/dec/15/vladimir-putin-question-and-answer-session-in-russia-live?CMP=twt_gu